Blog
Shearwater Computer Review
Posted: Oct 19, 2020
---
My Shearwater Perdix AI is hands down the best dive computer I've ever owned and all the dive computer that I will ever need.  It has more features, bells and whistles than I will ever truly use as a recreational diver.  It's extremely easy to use and to see.  What's not to love about features such as air integration, a digital compass, cool dive software with bluetooth, and easy dive planning.  The batteries are easy to find and user changeable – woah.  Shearwater is known for their excellent customer service, which offers peace of mind in your investment.  Lastly, should I ever decide to pursue the world of technical diving, this computer can meet those new needs and is a computer I can grow with.  After enjoying mine for over three years now, I still love it and recommend it to all levels of divers everywhere. 
IT'S EASY TO USE 
I want to say that again.  It is oh so easy to use.  The screen uses full words in menu screens (no abbreviations – yeah!) You don't have to guess at the abbreviation or memorize a manual because it's user friendly.  The two buttons are simple to scroll and select with.  You can still use them easily with gloves and because the buttons are touch sensitive there are no areas or gaps where they can get stuck or dirty.   The Perdix AI can easily be set for imperial or metric and you can even change between dives if needed.  Shifting from regular air mode to nitrox mode is also a breeze (even if on different dives within the same day). 
It's easy to see.  The vibrant, colorful, LED screen with crisp and clear font is so easy to see.  The display screen is customizable, meaning you can choose what you want to see easily at a glance. I tend to swim with my arms slightly folded together most of the time and since it is a wrist mounted computer, I love that I can easily glance at it without even moving a muscle.  The mounts are bungee material with clips that are easy to adjust even with different exposure suits. The screen brightness level can be adjusted based on preference or dive needs and helps you manage battery life. 
AIR INTEGRATION IS STREAMLINED AND COOL
  The AI in Perdix AI stands for air integration.  This means you can eliminate a console hose potentially and use a transmitter to wirelessly transmit pressure gauge data to your wrist computer.  It is designed to be paired with a Shearwater transmitter, but the Perdix AI is compatible with a variety of other manufacturer's transmitters if you already have one.  The computer reliably shows PSI/BAR air pressure, it shows current SAC rate (surface air consumption), and based on your breathing patterns predicts a GTR (gas time remaining estimate).   When you are approaching lower PSI/BAR levels, a low on air warning pops up on the screen and you are asked to acknowledge it.  I like this extra little nudge to be sure the user is being mindful and safe.  
Digital compass!  This compass is neat and generally accurate.  It's so easy to see, can be calibrated easily, and has 3-axis tilt compensation.  With a push of one button you can mark/save your headings in green contrasting font.  Once that is set, the reciprocal is automatically calculated and marked/saved in a red color contrasting font.   You can set up your home screen to have the compass there or you can easily toggle back and forth during the dive if you choose to not save it to your home screen.  You can adjust for true north if that is important to you, too.
DIVE LOG SOFTWARE WITH BLUETOOTH CONVENIENCE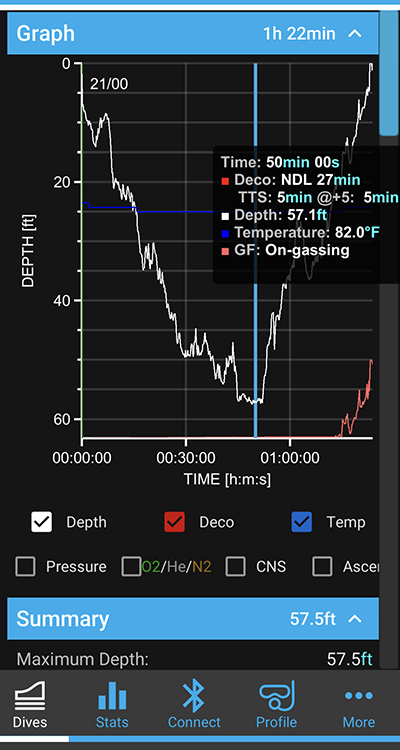 Shearwater has a detailed dive log iOS and Android compatible phone app & pc software that is included with a computer purchase.   The Perdix AI has Bluetooth technology making importing dive log data a breeze.  The computer can hold up to 1000 hours of dive log memory.  Yeah, I said 1000.  The dive log data provides a lovely graph with lots of data about the dive.   Dives can be exported into excel if needed.  Firmware is updated by Shearwater regularly and as new software versions are launched.  These updates can be easily download on your Perdix AI computer when your app or pc are connected to wifi. 
Dive planning simple to advanced. For recreational diving, the no stop time (or no decompression limit) will display as a countdown, will adjusts as you multilevel dive, and will auto sense safety stop depth and initiate a safety stop count down.  The Perdix AI has a sensitivity adjustment for your dive planning and can be adjusted from conservative to more liberal based on your personal limits.  This dive computer also stores more comprehensive info needed by the technical diving community and even has graphs that show estimated saturation levels of tissue compartments.
LET'S TALK BATTERIES
This dive computer uses a regular AA battery.  I adore this.  I can find an AA battery anywhere, in any country.  The battery is user changeable (you can do it yourself) and it's not a surgical process.  It has a simple screw out battery cover.  When the battery is changed, the computer retains your dive history and asks you if you would like to keep the current estimated saturation levels in your dive planning mode or if you need to clear the history (only do that if the battery was dead for more than a 18 hour period).  Shearwater claims 100 dive hours of battery life.  I get a little less than this, but assume it is because I like to keep the screen on a higher brightness setting and also keep the digital compass on the majority of the time I'm in the water.  It is very clear on the display screen when you are getting a low battery and warns you several hours before the battery actually dies. 
Shearwater has A+ customer service. As a full time instructor and dive professional, my Shearwater has been put to the test day in and day out for the majority of the three years I have owned it.  I have never had any problems with my unit, but when I have had questions, they were answered within 24 hours each time I've contacted Shearwater.  Also working in the dive industry, we can't help but hear reputations of various manufactures and products.  Shearwater has always been well regarded as reliable, fair, and communicative in regard to customer service overall.  Shearwater is based in Canada.  A good company reputation always offers a little more peace of mind in your investment. 
I CAN GROW INTO THIS COMPUTER
I can grow into this computer.  While I am not currently using all of the features the Perdix AI offers, I want to leave you with the reminder that this computer is a full decompression trimix computer.  It can be used with a closed circuit rebreather, can read multiple transmitters if needed, and has full gauge mode.  You can also decide between Buhlmann GF algorithm or upgrade to VPM-B algorithm. 
Any Cons? I know I have been singing the praises of the Perdix AI.  There are a few cons, but in my opinion the list is minimal.  Some could say a wrist mounted computer is easier to misplace than a computer that is attached in a console to your set up.  The Perdix isn't generally worn as a watch unit outside of diving (If you like that idea – check out the Shearwater Teric).   Since the Shearwater Perdix AI is so amazingly awesome, it does have a price point in the high-end computer range. 
Regardless of the cons, it's clear that Shearwater has a great product and it's well worth the money.  Considering ease of use, beautiful display, customization options, air integration, a digital compass, advanced dive software with Bluetooth connectivity, easy dive planning – the Perdix AI is a full package for both a recreational diver or a tech diver!    The Shearwater team is amazing to work with and a company you can trust, too.  Give us a call at Maui Dreams Dive Co. if you would like to learn more or even test dive a Shearwater computer! And of course, you can click here if you prefer to shop online - if we don't have what you want, we'll be happy to order it for you!
Aloha, Kelly